Punta Mita, Mexico = Rip off
Recently, beautiful Erin and I escaped for 5 short nights and 4 days to Punta Mita, north of Puerto Vallarta, Mexico. I have to say it was one of the worst trips of my lifetime, and I am not likely to return to Mexico any time soon.
Erin wanted to stay in a fancier hotel, so I let her choose. Luckily, I was able to talk her out of the $1,000/night Four Seasons. She chose instead the Hotel des Artistes. I immediately distrusted it, with that French name.
We rented a car at Dollar/Thrifty outside the Puerta Vallarta airport, and on our USAA insurance recommendation, we did not take the extra insurance because we have comprehensive here at home. The drive from there to Punta Mita was not bad. We stopped at the Mega for supplies, which included several gallons of water to drink and brush our teeth. I had heard rumors not to drink the water in that area.
The Hotel des Artistes was nice, two pools and a nice restaurant attached. (Oddly, the pool on the roof was heated.) Our suite was very comfortable, with two bedrooms, a kitchen, a couple bathrooms, and a deck over looking the waves, and we settled in. The ocean, sadly, was impossible to swim in, much less snorkel. Too rough and rocky, and trash floating in it.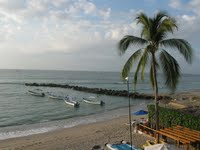 We found one beach we could swim in, in a really depressing area up the road.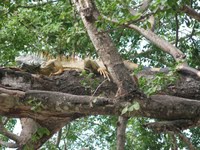 Then we found another beach, Playa de los Muertos (Beach of the Dead, turn right after the iguana tree) in Sayulita, several kilometers from Artistes, that I could maybe have returned to for snorkeling if I hadn't gotten food poisoning.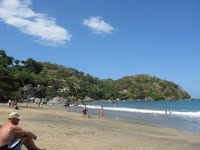 To make a long story short, day three of 4, after swimming and lunching in Sayulita, I spent the evening barfing my guts out, and then exhausted. We think it may have been the lemonade at lunch (ice cubes) or maybe the coffee popsicle (made with water.) Next day, I felt better, but weakened, and could not eat. That night the diarrhea started in the most disgusting way, I won't go into it further than that. Next day, we checked out of our room, and I waited in the hotel "spa" until time to drive to the airport, in case of emergency.
Returning the rental car, they said we had damaged the underneath of the vehicle. I have never looked under a car, so I can't tell if this is damaged or not,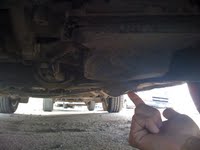 but we didn't hit anything or scrape on anything, so if this is damage, it must've happened before we picked the car up. $1,000.

At home, Erin got the bill for the Hotel des Artistes. They charged an extra $100, per day, for tips. !!!! No talking them out of it. Of course, we'd been tipping all along anyway, but not nearly that much.
I have never, ever, been ripped off in Mexico before, and I am very disappointed. It will certainly be a long time before I return. For my next tropical adventure, I will look for an ocean where I can swim and hopefully snorkel, and where I can feel safe from human predators.

Erin loved our trip to Punta Mita, so I will have to find her a place with a nice restaurant, and a pool where she can lay out all day and read. She got so relaxed.