disappointments, gratitude
At the beginning of our project our architect, Kathy Rogers, told us to choose one main design element for each room, and design the rest of the room around that one graphic element. Erin wanted something specific for our kitchen, so we decided I would design the new bathroom.
Kathy sent us to a high end tile place, Ann Sacks, where I found this mandala tile that I loved, and everyone agreed to design all the elements of the room around this decorative tile. It was made by a tribe of native Americans in Oregon.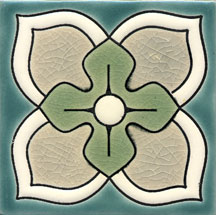 So I requested a sample tile. When the sample arrived, the Ann Sacks representative said maybe I should consider a non-crackle glaze. She felt the crackle glaze allowed the pattern to bleed unpredictably. So I requested a sample tile with a non-crackle glaze. This was in July.
Then the tribe's kiln broke down.
I got my non-crackle glaze sample on November 29th. It did not match the tile with
the crackle glaze at all, or any of our materials. The contractor said it was time to order the materials right away. So I asked for the crackle glazed mandala tiles, and Ann Sacks told us they were no longer available. Kathy suggested we go without any decorative tiles. I thought that would be too subtle. I felt like we were being penalized for Ann Sacks not being able to produce. I had a good cry over this one.
Over the weekend, I came to accept this. On Monday, I checked the counter-top stone and floor tiles, and the onyx mosaic, and thought they are beautiful enough. So, we will have a white bathroom.
These are the kinds of things that feed my depression. Like our foyer. We visualized a grand stairway with a big coat closet to one side to eliminate the need for a cluttered coat and hat rack right by the front door. Not possible. The city of Oakland required us to bring our outside wall in 18 inches from the outside wall. This is called a setback, and leaves little room for a closet.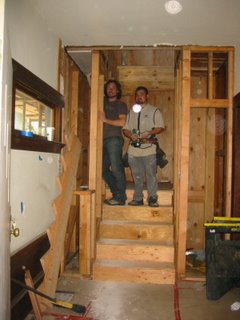 I am seeing that I am spoiled. I am depressed because I cannot get what I want. And yet, there are people sleeping on the bench outside at the end of our block where we rent. I gave one of them a blanket one night. My therapist has suggested I practice noticing what I am grateful for. I read about a Balinese medicine man who prescribed sitting and smiling as meditation. So every day, I am remembering to feel grateful for Erin, for my health, my community, every thing I can think of. And today, I will try to take a few minutes to sit and smile.

Labels: Remodel project