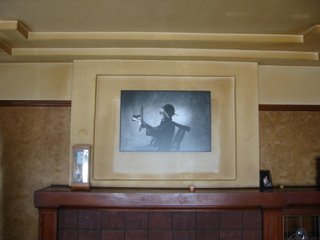 Here you see why we are both sick at this rental. My framed photo hangs over the mantel on a wall seriously stained by 60 years of the previous owner's cigarette addiction. Poor dear.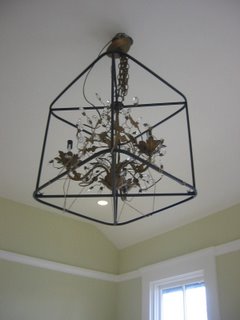 It was funny to see this as I came to the top of the stairs. At first I didn't realize that black cage is the packing material, not part of this little chandelier in Erin's sitting room. I thought it looked dramatically modern and beautiful. Then I realized it was just the package.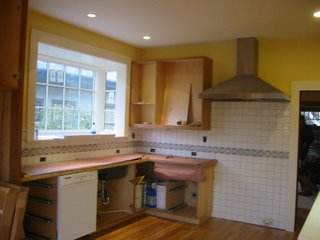 It is really hard to believe we move in next Thursday, one week from today. At least the kitchen tile is all in, and the hood and duct cover have been repositioned to allow room for an adult's head. The dishwasher is under the counter, but last time I saw the space there was no plumbing or electrical behind it.

Everybody is working very hard to get us in our home on time. But tomorrow and Saturday/Sunday no one can go in because they will put the finishing touches on the wood floors. Then, Monday and Tuesday = finish, Wednesday = clean up, then Thursday = move back in.