Landmark Marriage Equality Decision!
Hooray! The California State Supreme Court today ruled it unconstitutional to deny Erin and I equal rights to marry each other.

It has been a long road of struggle for all same-sex couples. Erin and I have long sought to celebrate our commitment. First, on September 3, 1997, our 3-year anniversary, we registered as Domestic Partners with the City and County of San Francisco.

The following June Willie Brown invited us to SF City Hall to celebrate in masse with about 1,000 other same-sex Domestic Partner couples.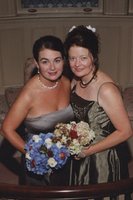 Next, we celebrated a Civil Union in Vermont, September 23, 2000.
This grants us certain limited state rights if we were to reside
in Vermont
. (It will also be difficult to dissolve. If we ever split up, one of us would have to reside for a year in Vermont. We do not intend to ever split up.)





On Valentine's Day, February 14, 2004, we joined thousands of other same-sex couples and received marriage licenses at San Francisco City Hall. This was later nulled.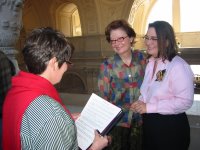 I wonder if, with the Supreme Court's decision today, we are
now
considered married again? I know not federally, but in the state of California?



Death to homophobic bigotry. May it rot in the sewage of hatred. I won't go so far to say death to homophobic bigots, because I know some homophobic bigots. Even though I am very disappointed by their ignorance, I believe with time and patient pursuasion, they may be open to growing to accept me and my wife, Erin. I hope we have enough time to realize full equality in our lifetime.