Erin and I are very pleased with the way our project is coming together. Credit our architect, Kathy Rogers, and our contractor, Stephen Swan. We are on schedule to move back in the last week of February. This is very good.

The exterior shingles are all on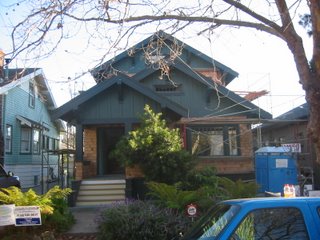 The stone counters are installed in the kitchen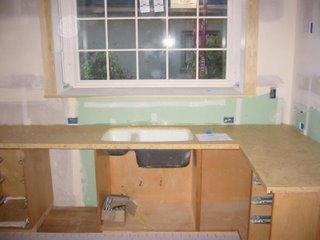 and bath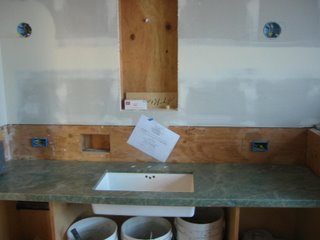 I think they plan to start painting the interior
next week
, as they finish the upstairs bathroom and back deck.

We had a great experience with the fellow from California Closets, who designed our walk-in closet upstairs, and even a functional system for that pathetic narrow-but-deep foyer coat closet. I've never felt so excited about closets before.
Of course I have some regrets. In hindsight, everything appears clearer. Regrets are what pain me about this project, and these regrets pretty much all stem from our lack of experience in this arena.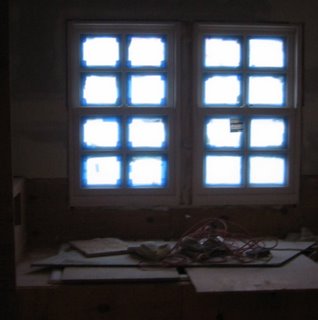 -- That we have all these window dividers. The architect calls them lights, but
I'm thinking they should be called shadows
.
The wood will block the light, and thus negatively affect all the stained glass I plan to hang in front of them.
-- That we chose paint quality rather than natural wood for all the interior trim. The natural wood look is what is attractive about the original craftsman look.
-- That the new deck opens at the ends. I'm thinking a central stair with a path that splits to either direction would feel more open to the yard, more inviting, better feng shui.
Paula said it took her six months to adjust to and accept her remodel because of regrets. I can see that.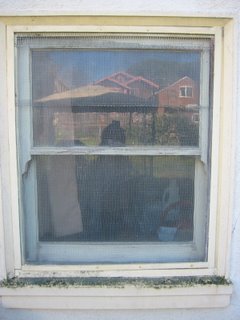 Probably because of the mold/mildew at our rental, like on this window sill, I have a new diagnosis of asthma. Kaiser gave me an inhaler. Last time I got that diagnosis and product, we were house-sitting at Adam and Jok's on the canal in Marin. In retrospect, that place was probably Moldy with a capital M.






Finally, this week we pause in respectful recognition of the sudden passing of our friend, Ingrid Wilhite. She so wanted to live. At 48, she was so young, and taken so suddenly by an aggressive malignancy in her brain. Heaven must've been missin' an angel. This event is such a wake-up call to the preciousness of each breath I am given. Rest in peace, sweet Ingrid.